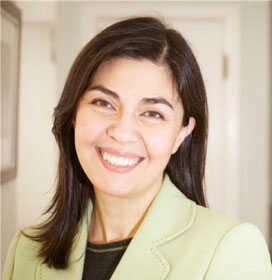 Nil Yücel opened her own office in January 2002. When tracing the path that led her to dentistry, she recalls, "As a child, I did lots of drawings. I had a thing for beauty and aesthetics. One day in a dentist's chair, I admired the person working and thought, 'I would be good as a dentist,' and it just stuck with me."
Dr. Yücel, a native of Turkey, received her license in general dentistry from Aegean University in İzmir in 1993, and she went directly to Holland, where she had been an exchange student before. She did research at the dental school of Radboud University, which was formerly known as Katholieke Universiteit, Nijmegen, as well as treated patients.
In August 1994, Dr. Yücel decided to move to California to live in one of the best places to practice dentistry and to be near her sisters who currently reside in California. Over the next two years, she passed the California licensing exams, then she went to University of California, San Francisco, for a two-year post-graduate residency in the advanced education in general dentistry (AEGD) program. There, she had the opportunity to work with dental specialists and highly compromised patients. For a year, she did research at UCSF in Preventive and Restorative Dental Sciences. Dr Yücel is an assistant adjunct professor and has published a paper in surface sciences on imaging dental collagen fibrils using atomic force microscopy.
"Besides doing beautiful, quality work, I do welcome and like open communication. Patients know I care about how they feel and that I want to help them move beyond their fear of dentistry. Almost all my patients end up falling asleep, without nitrous, during their treatment."
Outside the office, Dr. Yücel enjoys oil painting and travel.
Hours
| Day | Hours |
| --- | --- |
| Monday | 8:30 a.m. - 5:30 p.m. |
| Tuesday | 8:30 a.m. - 5:30 p.m. |
| Wednesday | 8:30 a.m. - 5:30 p.m. |
| Thursday | 8:30 a.m. - 5:30 p.m. |
| Friday | 8:30 a.m. - 5:30 p.m. |
| Saturday | Closed |
| Sunday | Closed |
Get in Touch!